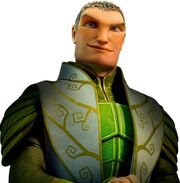 Ronin is a Leafman general. He can be a very strict person. Ronin is friends with Nod's father, and promised him that he would look after Nod. He loved and cared deeply for Queen Tara.
Relationships
Queen Tara:
Nod:
Trivia
In Japan, a Ronin is a masterless samurai, which fits with the Leafman theme of samurai-styled weapons and armor.
Ad blocker interference detected!
Wikia is a free-to-use site that makes money from advertising. We have a modified experience for viewers using ad blockers

Wikia is not accessible if you've made further modifications. Remove the custom ad blocker rule(s) and the page will load as expected.